CTNM18C Corn Grinding Combination Machine Orders from Venezuela - Achalpur
Monday, 10 April 2017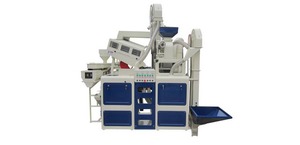 Item details
City:
Achalpur, Maharashtra
Contacts

Win Tone

+86-371-86635811
Item description
Recently, we received several orders of CTNM18C Corn Grinding Combination Machine from Venezuela. Corn is one of the main agricultural products in Venezuela. Corn price in Venezuela has been keeping an increase since 2015.
Corn Grinding Machine will have large business market in Venezuela. The popular corn processing equipments are rice cleaning machine, paddy husking machine, corn color sorter, corn whitener, corn polisher, rice grader, rice drying machine, corn grinding combination machine and corn grinding machine line.
As one popular and multifunctional corn grinding machine, CTNM18C Corn Grinding Combination Machine is the first choice for corn grinding and small corn processing plants in the market. It integrates cleaning, dedusting, destoning and corn grinding functions together and has the features of good paddy separation, easy operation, low noise, high yield, fast grinding process and high quality end products.